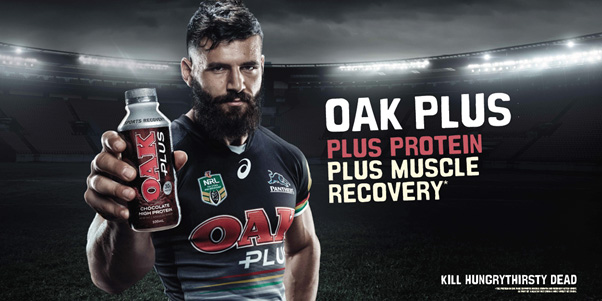 BP held their annual awards evening where they review the year that was and announce various awards within their business.
Lactalis Australia was pleased to take home NEW PRODUCT OF THE YEAR for OAK PLUS. Nominees for the award included Dare Cold Pressed and V Bling. New Product of the year includes all aspects of the launch from the level of innovation through to the launch communication plan and ultimately the impact on sales.
The synergy of the Lactalis Australia and BP partnership shone through with the launch of Oak Plus. Working together we ensured from day one that stock was not only on shelf, but given premium positioning in both impulse and home base locations. Oak Plus was supported with a 12 week over and above instore marketing focus making Oak Plus the feature product both in and outside of the store across the first 12 weeks. Overall the execution of the Oak Plus launch in BP was best in class and has provided strong incremental sales to BP and the beverages category. This launch has created the perfect blueprint to follow for future NPD.
OAK PLUS has been specifically developed for sports recovery, with benefits of muscle growth and repair for both the elite athlete and the weekend warrior. Protein is great post exercise, after your body has depleted glycogen stores and damaged muscle fibres. The protein and carbohydrate content in OAK PLUS helps to replenish those glycogen stores and repair your muscles to aid a better recovery.
OAK PLUS boasts 30 grams of protein in every bottle, tastes amazing and is low fat and reduced sugar.
OAK PLUS is available at all major retailers so get out and try one today and comes in three great flavours: chocolate, vanilla and iced coffee.